Buy Breadwinner Now
Breadwinner knows when your sourdough starter is ready to use by learning how it grows and alerting you when it's at peak activity.

Now just $85.
Breadwinner lets you stop guessing when your starter is ready
Go Deeper with Data
Home baking is an adventure, but you don't have to go without a guide. You can't change what you don't measure, so the Breadwinner website makes it easy to log notes on every feeding, recipe, and bake, helping you remember what worked, and what didn't. On the site you can record as much or as little about each bake as you like, and collaborate with other bakers to debug a recipe or perfect a proofing schedule.
The growth curve of your yeast can vary a lot – everything from the type of flour, the amount of water you use, and your kitchen's temperature will affect how your starter metabolizes.
Features That Rise Above
Never miss the perfect rise!
Breadwinner's real-time monitoring alerts you the moment your sourdough starter peaks, ensuring the ideal time for baking.
Intuitive Design
Sleek and simple, Breadwinner's user-friendly design makes sourdough success accessible to bakers of all skill levels.
Smart Notifications
Choose how you get notified. Whether it's an email, a pop-up, or an SMS, Breadwinner keeps you updated in the way that's most convenient for you.
Data-Driven Insights
Dive into your starter's history with Breadwinner's data logs, and refine your process for consistently perfect loaves.
Breadwinner Testimonials
"As a yeast genetics researcher at UCLA, the Breadwinner technology is valuable in its ability to quantify growth and rise rates of diverse sourdough microbiomes!"

- Chantle Swichkow, PhD Yeast Genetics Researcher at UCLA
"Very few IoT devices make me as happy as my Breadwinner. It's like my sourdough starter has a brain and can tell me when it's excited to get to work!"

- Avidan Ross, Founder @ root.vc
"Sourdough starter can seem, at first, like alchemy, witchcraft and luck all rolled into one. Breadwinner changes all of that. If you love science, Breadwinner has got you. If you love data, same thing. And if you've ever had a Tamagotchi then this is right up your alley. The final design is pure magic."

- Dallas Roberts, Breadwinner Beta User
"I love comparing the difference in rise and time-to-peak across different flours, and the dashboard makes it easy to visualize those data, for myself and other bakers who like to geek out over microbial ecology."

– Erin McKenney, Assistant Professor and Director of Undergraduate Programs, NCSU
Ready to join Breadwinner today?
Buy Breadwinner Now
Order your Breadwinner now and start the journey to perfect sourdough!

Here's what comes in the box:

• The Breadwinner Device
• 4x AA Batteries
• Logo-free 16oz mason jar
• Quick start guide

… for only $85.
But how does it work, really?
Breadwinner, Techinically Speaking
Breadwinner sits on a standard mason jar for your sourdough starter that keeps track of how it's growing.
The guts of Breadwinner are pretty simple – inside the lid are a couple of battery powered sensors that measure height and temperature, and some lights to alert you when it's ready. Each time you feed your starter, Breadwinner seamlessly syncs with the cloud to record your starter's behavior over the course of 36 hours.
Once your starter hits peak fermentation, Breadwinner lets you know it's time to start making your dough, and gives you a precise measurement of how long it took (e.g. "Your starter took 9 hours and 32 minutes to reach its peak.")
By crunching all these numbers behind the scene for you, Breadwinner takes the guesswork out of gluten.
Breadwinner might seem really nerdy, but it's actually the perfect beginner's tool. We built this to help you nurture, coax, and cultivate your starter from scratch so you can get the most out of your time in the kitchen.
Discover
Explore top recipes with our exclusive curated search engine, then use Breadwinner to customize your own recipes and chart your progress.
Foster
We'll help you get the most out of your starter by suggesting when to feed it and how best to take care of it.
Collaborate
Breadwinner makes it easy to solicit feedback on your individual bakes, helping us help you become a better baker.
Kaizen meets Carbs
Everyone's path to learning to bake better looks different: some people have never heard of rye, while others want to know how long they can leave their dough in the fridge before it gets too sour. No matter what your goal is, or how you want to get there, Breadwinner is here to provide the perfect tools and technologies to spur creative exploration through bread.
Check out our recipes to find something to bake today.
Tools to bake better
My First Starter
First Fed on June 1st 2020
100% hydration
A home for starters
Your starter is a member of your family, so why shouldn't its own profile? Upload a photo of your favorite jar of yeast, track its bakes, and get notifications of when to feed it.
Show us your loaves
Breadwinner makes it simple to track your progress as a baker – each time you bake a loaf, you can record detailed notes about how it went and what you'd do differently next time.
Curated inspiration
Breadwinner may be the only structured data repository of baking recipes on the web. Check out our tag-based search engine that makes it incredibly easy to find a great recipe.
Why bake?
Learning a new skill can improve confidence, and inspire exploration and risk-taking. Baking is a centuries-old art offering us the opportunity to learn about ourselves and connect with others. When skills like baking are learned in real life, we're reminded of the mysterious beauty of the natural world; the magic of community. This is especially important now, when so many people are spending more time at home seeking comfort and fulfillment during a difficult time.
1599 bakers have baked with us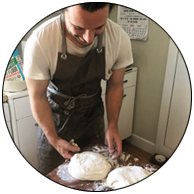 Meet Fred
Aside from baking bread, I love surfing, playing piano, writing, emoji and my two cats. I was the second employee at Kickstarter where I led their data team but have also worked for Creative Commons, Y Combinator and the Wilton Public Library.
Thoughts?