Order Breadwinner Now
Breadwinner knows when your sourdough starter is ready to use by learning how it grows and alerting you when it's at peak activity.
A new community for bakers and their starters
Discover
Explore top recipes with our exclusive curated search engine, then use Breadwinner to customize your own recipes and chart your progress.
Foster
We'll help you get the most out of your starter by suggesting when to feed it and how best to take care of it.
Collaborate
Breadwinner makes it easy to solicit feedback on your individual bakes, helping us help you become a better baker.
Kaizen meets Carbs
Everyone's path to learning to bake better looks different: some people have never heard of rye, while others want to know how long they can leave their dough in the fridge before it gets too sour. No matter what your goal is, or how you want to get there, Breadwinner is here to provide the perfect tools and technologies to spur creative exploration through bread.
Check out our recipes to find something to bake today.
Tools to bake better
My First Starter
First Fed on June 1st 2020
100% hydration
A home for starters
Your starter is a member of your family, so why shouldn't its own profile? Upload a photo of your favorite jar of yeast, track its bakes, and get notifications of when to feed it.
Show us your loaves
Breadwinner makes it simple to track your progress as a baker – each time you bake a loaf, you can record detailed notes about how it went and what you'd do differently next time.
Curated inspiration
Breadwinner may be the only structured data repository of baking recipes on the web. Check out our tag-based search engine that makes it incredibly easy to find a great recipe.
Why bake?
Learning a new skill can improve confidence, and inspire exploration and risk-taking. Baking is a centuries-old art offering us the opportunity to learn about ourselves and connect with others. When skills like baking are learned in real life, we're reminded of the mysterious beauty of the natural world; the magic of community. This is especially important now, when so many people are spending more time at home seeking comfort and fulfillment during a difficult time.
1553 bakers have baked with us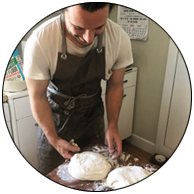 Meet Fred
Aside from baking bread, I love surfing, playing piano, writing, emoji and my two cats. I was the second employee at Kickstarter where I led their data team but have also worked for Creative Commons, Y Combinator and the Wilton Public Library.
Thoughts?